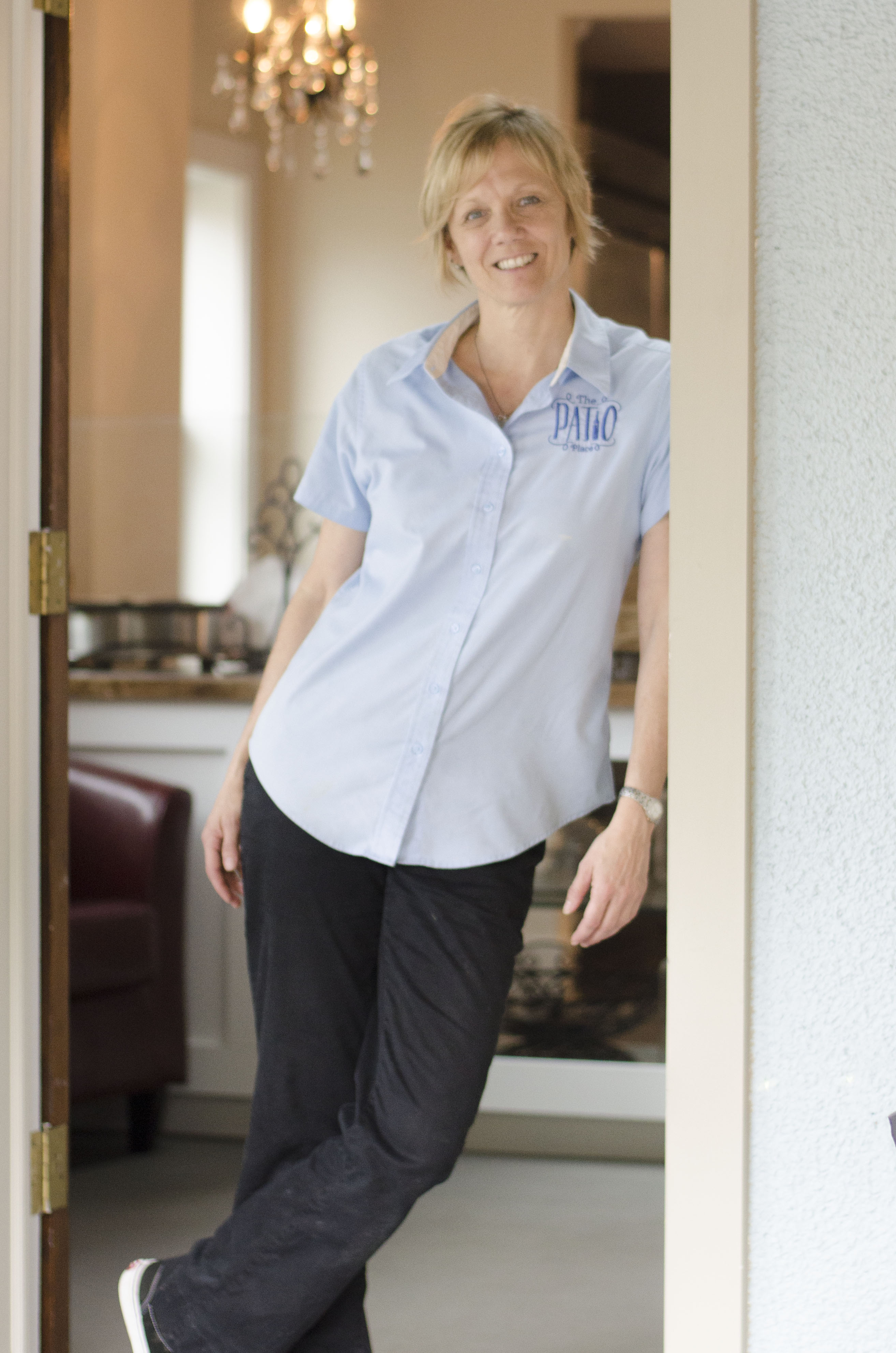 Amy Petroy
I wanted to create a place where family, friends and associates can gather in a cozy location for short or long periods of time. Where they can get their food quickly yet not feel rushed to leave. Where gathering for drinks on a sunny afternoon or late into the evening is easy and economical. With this in mind I have created The Patio Place for the people of Fernandina Beach and the visitors!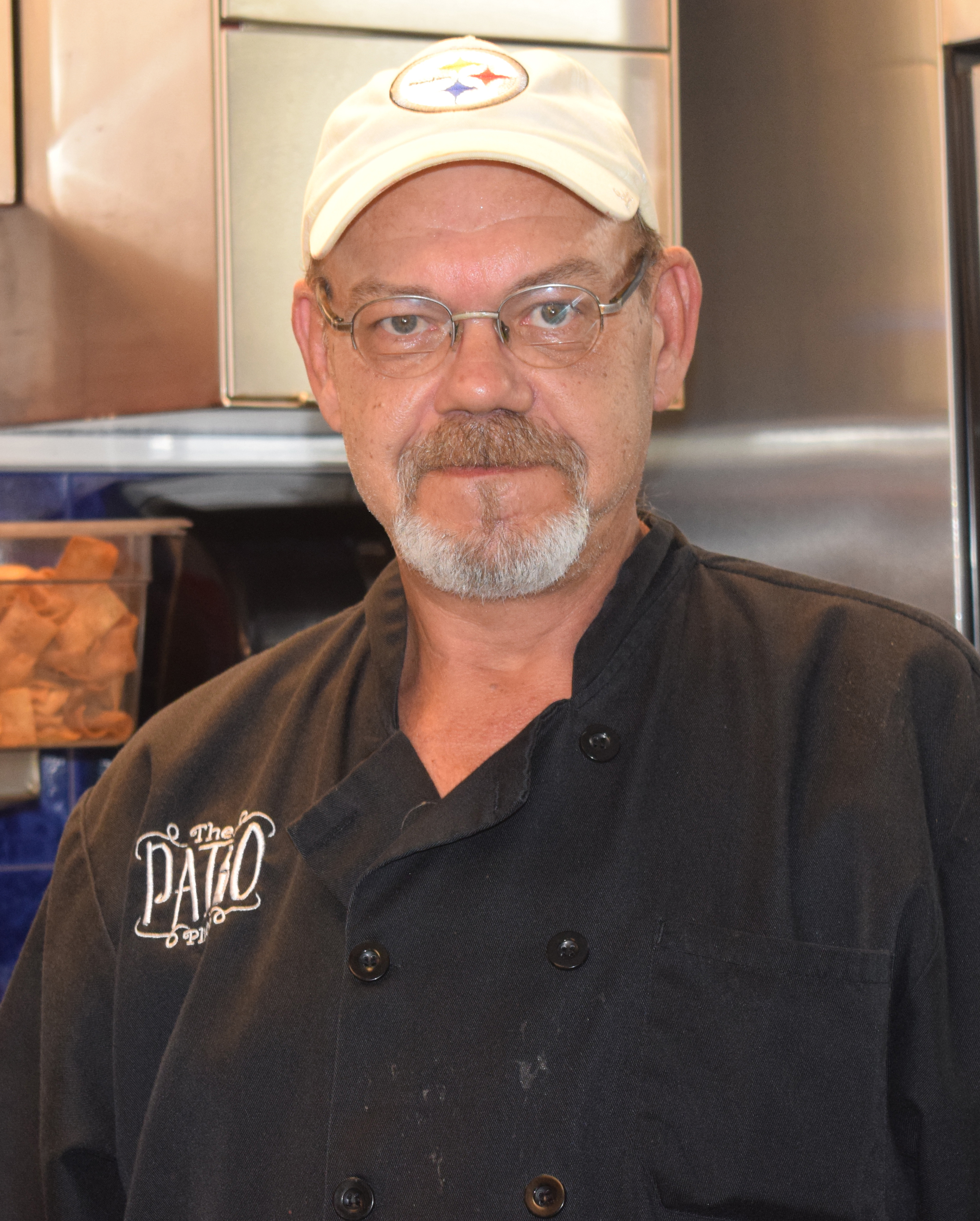 Dale Jennings
Many of you may recognize Dale from Bright Mornings Café… as he and his parents proudly owned the café for many years prior to selling and joining The Patio Place team.   Dale enjoys cooking up breakfast and lunch for the customers.    His quiche and omelets are favorites – but his biggest seller are his unique grits.  Born and raised in Pittsburgh, PA area – Dale is a Steeler fan through and through!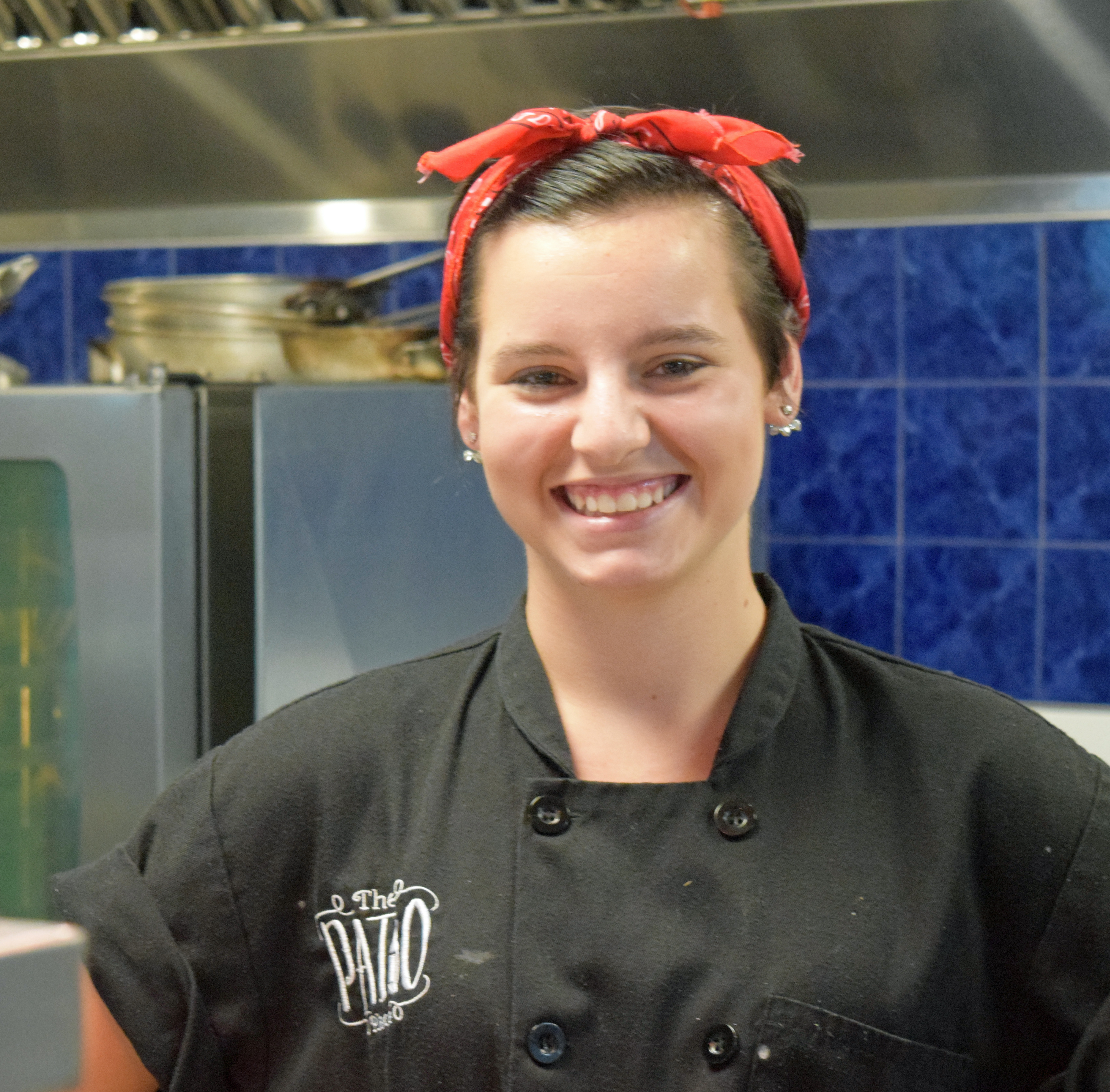 Breanna Kilpatrick
One of the "Originals"!  Breanna has been with The Patio since day 1 and we couldn't be luckier!   Known as "SweetPea" Bre brings "tons of fun" to The Patio every shift.  A graduate of Nassau County schools – Bre also participated in the culinary program and obtained a ServSafe Managers certificate.  She is currently attending FSCJ and is considering a career in culinary or fashion design, combined with business.  For now – she runs the kitchen two evenings a week, is sous chef to Dan and steps in as restaurant manager when needed.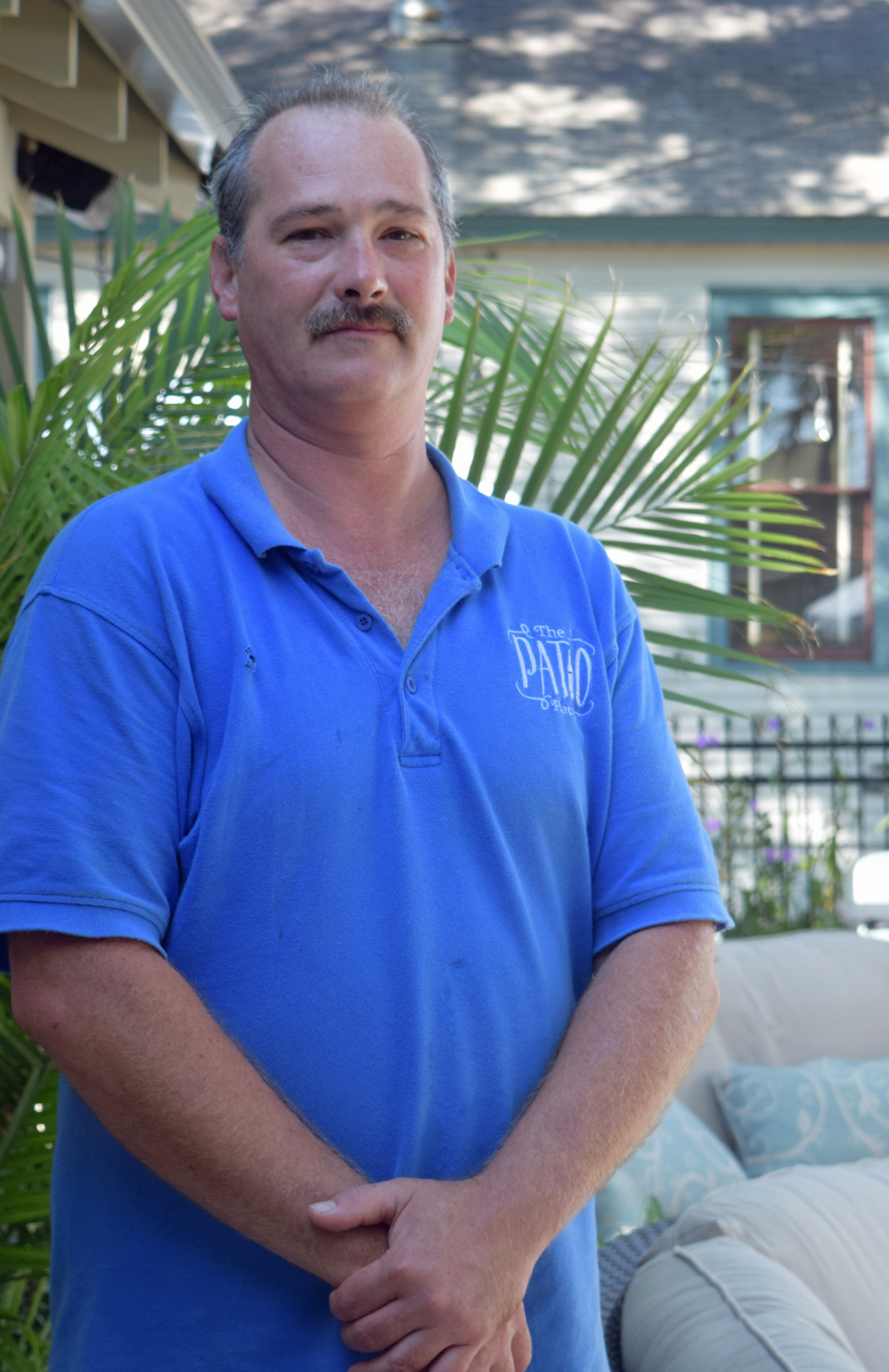 Eric Todd
Eric can be seen all over the restaurant working hard.   Every morning Eric works diligently to clean the outside patio area and set up all the seating.   He is responsible for our beautiful restrooms, clean windows, spotless dish pit and he even helps the chef with food prep.    When the restaurant is super busy Eric steps in to greet the guests, and run drinks and food.   He is a real asset to the Patio Place family.   Eric is a native of Fernandina Beach and is proud of our island!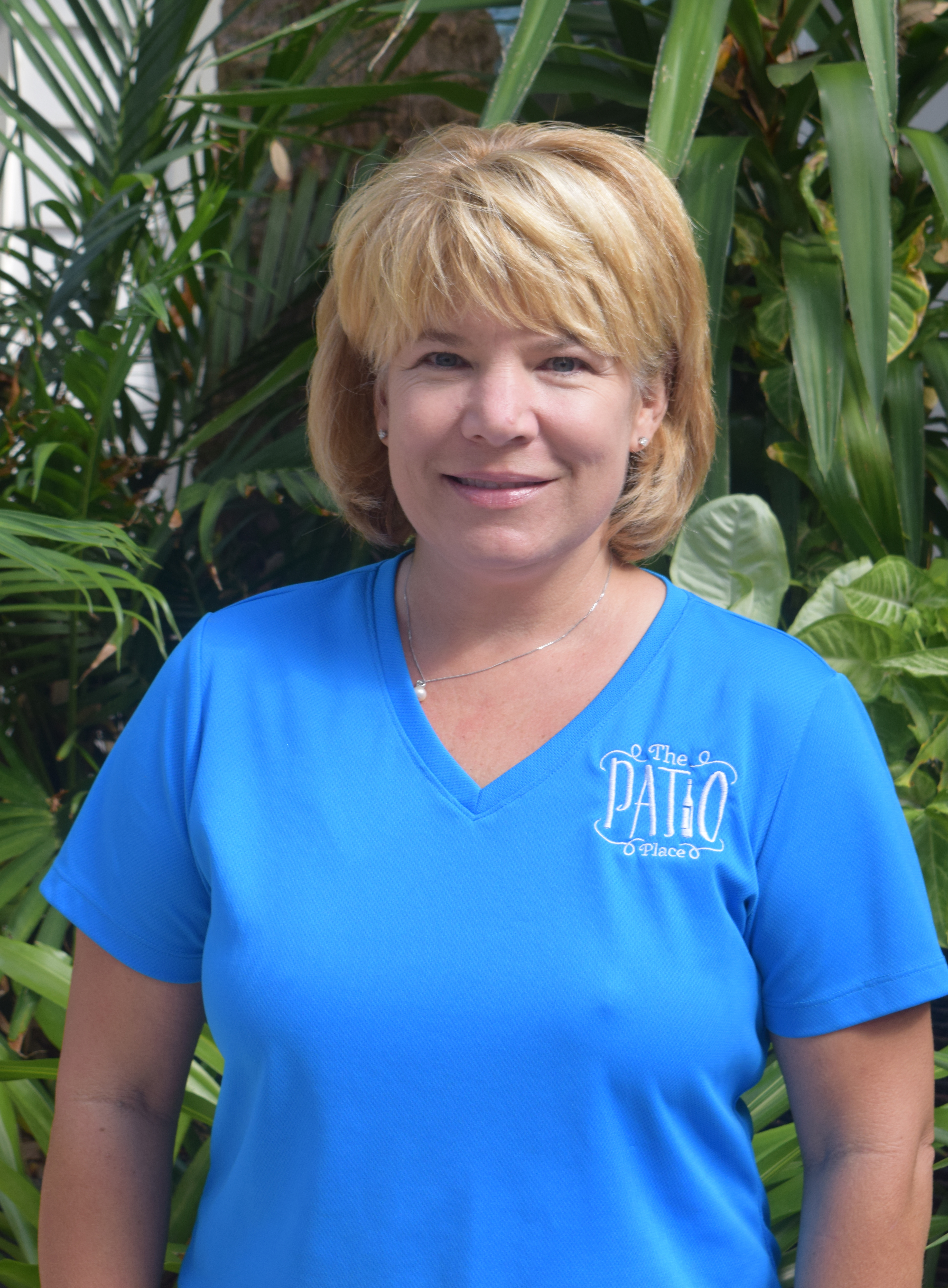 Julie Phillips
A great friend – Julie stepped in within one week of the restaurant opening to join the Front of House team.    She comes with experience in many, many areas.   Julie had a career in the airline industry and has applied her friendly customer service experience to The Patio Place wonderfully.   Additionally, she has the biggest and brightest "Green Thumb" ever.   She is responsible for the beautiful plants and landscaping on The Patio.    Amy collects the pots and planters — Julie fills them with all the plants and keeps them alive with her caring hands and love!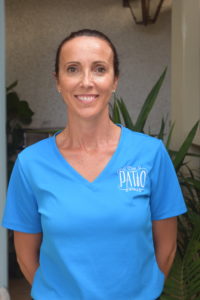 Laurence Dijon
A French restaurant with an authentic French server – we are sooo blessed!!!  Laurence was born and raised in St Vincent de Mercuze, In the French Alps, France, but has lived in the United States for 12 years.  The Patio Place is her first job in America and we are honored that she chooses to work here.   Recently Laurence and her family became citizens of the United States and her hard-working attitude is a real asset to our society.   Laurence can frequently be heard speaking French to our customers and chatting up her experience in France.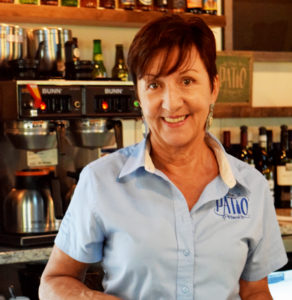 Catherine Johnson
Another highly experienced team member!!  Catherine owned a very successful, quaint restaurant in New England before deciding to head south to Amelia Island.     Luck is on our side when I think of Catherine — how lucky I am to have Catherine behind the bar and serving customers during our busy nights.   She knows exactly what needs to be done to support our servers and server her own tables.   Catherine loves wine and can help any customer to find the perfect glass.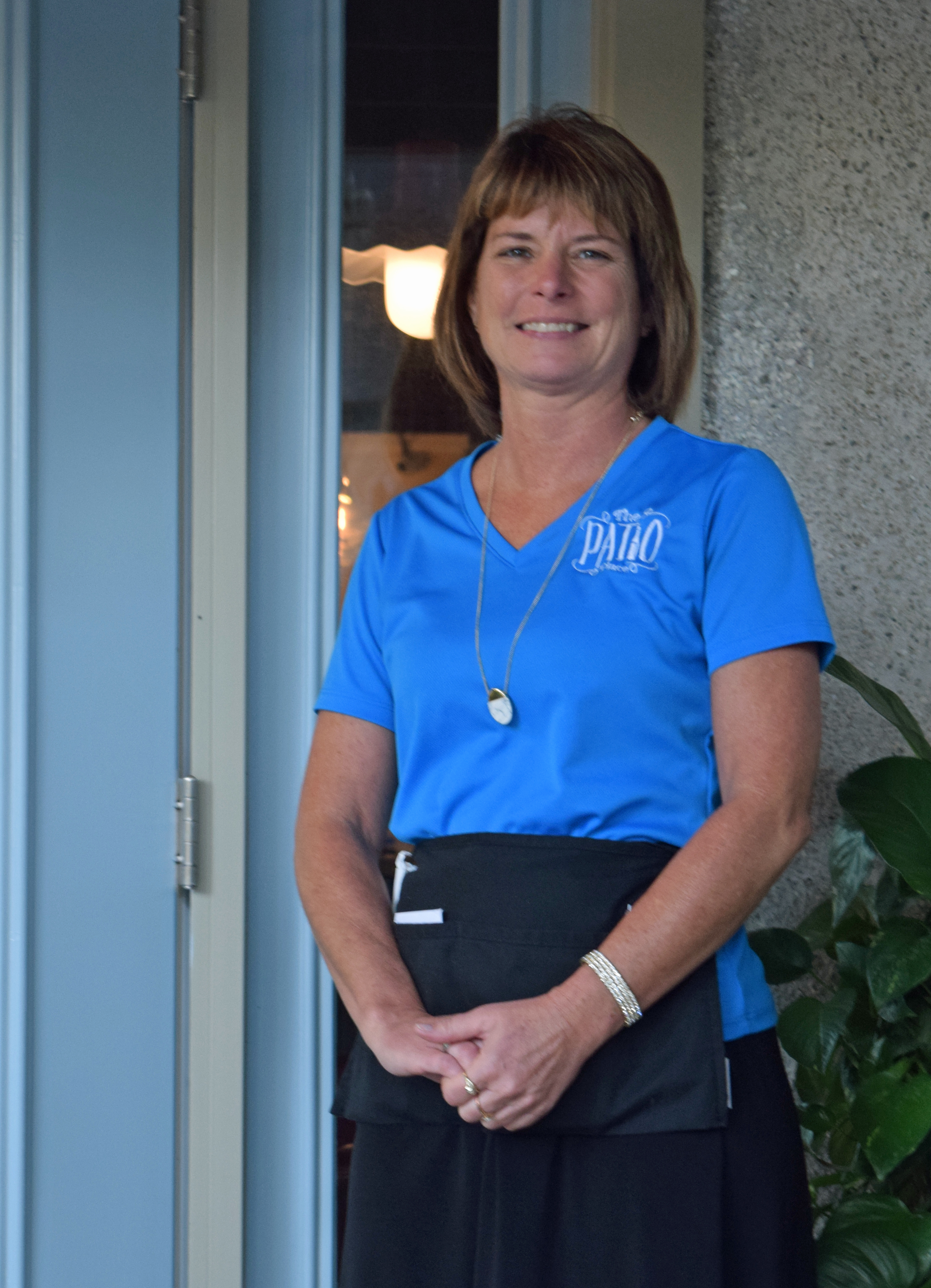 Sharla Parker
Sharla was previously a restaurant co-owner .  Her experience is invaluable to The Patio – as she knows how to balance numerous tables at once all while supporting other servers and keeping the "front-of-house" spotless!   Sharla is a mom to 2 wonderful daughters and a pseudo-mom to many, many students during the day at Fernandina Middle School where she has the world's most important job – a teacher!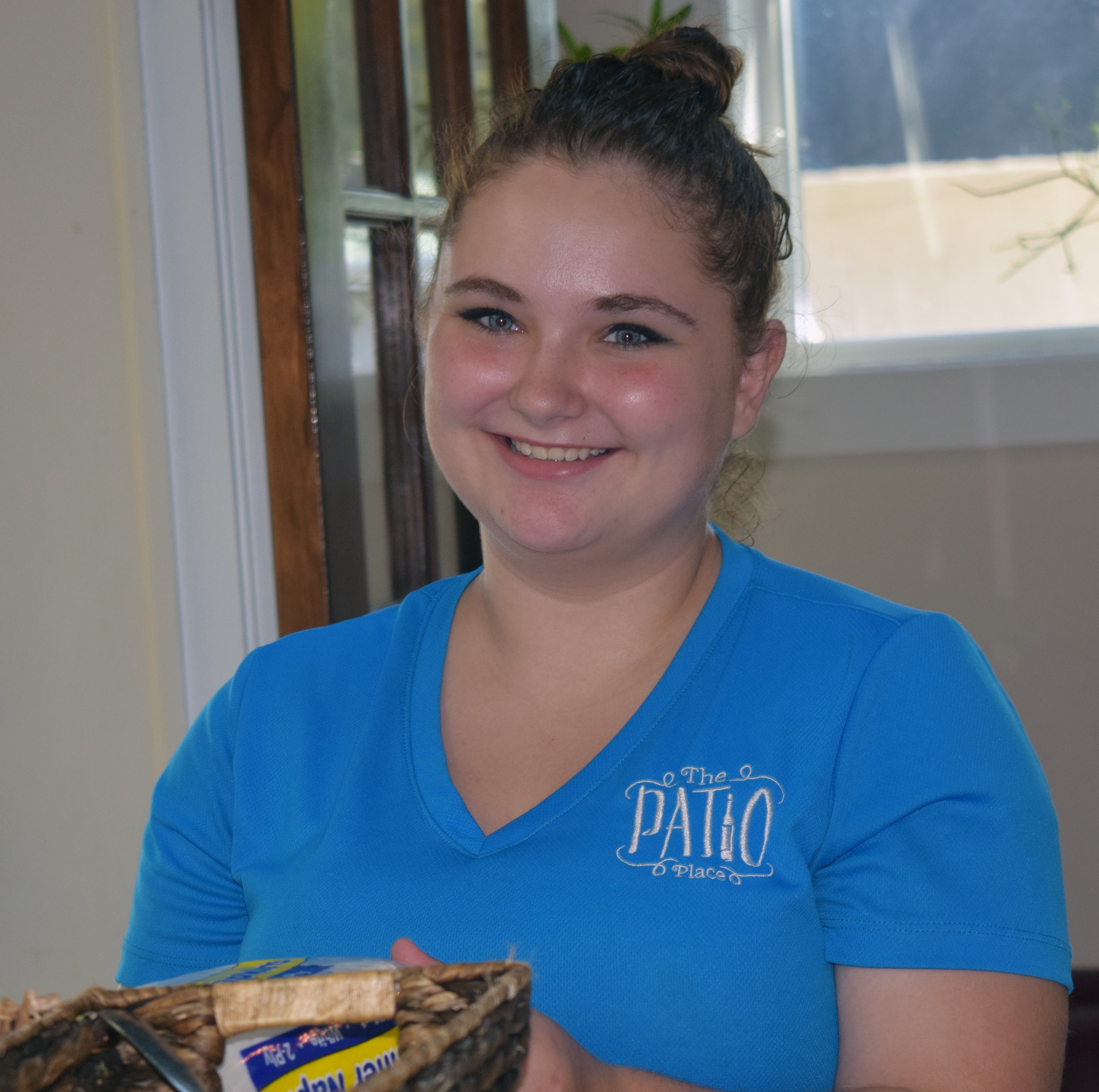 Dinah Chapman
The Little One with a big smile and big heart!  That is our Dinah.   Dinah chose The Patio Place family as her first job and it was a great choice.   Dinah started in a dish pit position and in 7 short months she can now do every position in the restaurant – and she does everything with a big smile.   Making crêpes in the kitchen is her favorite position and she does it with excellence.   Dinah is also a student at FSCJ and contemplating a career in culinary.   We love making a positive impact on young adults such as Dinah!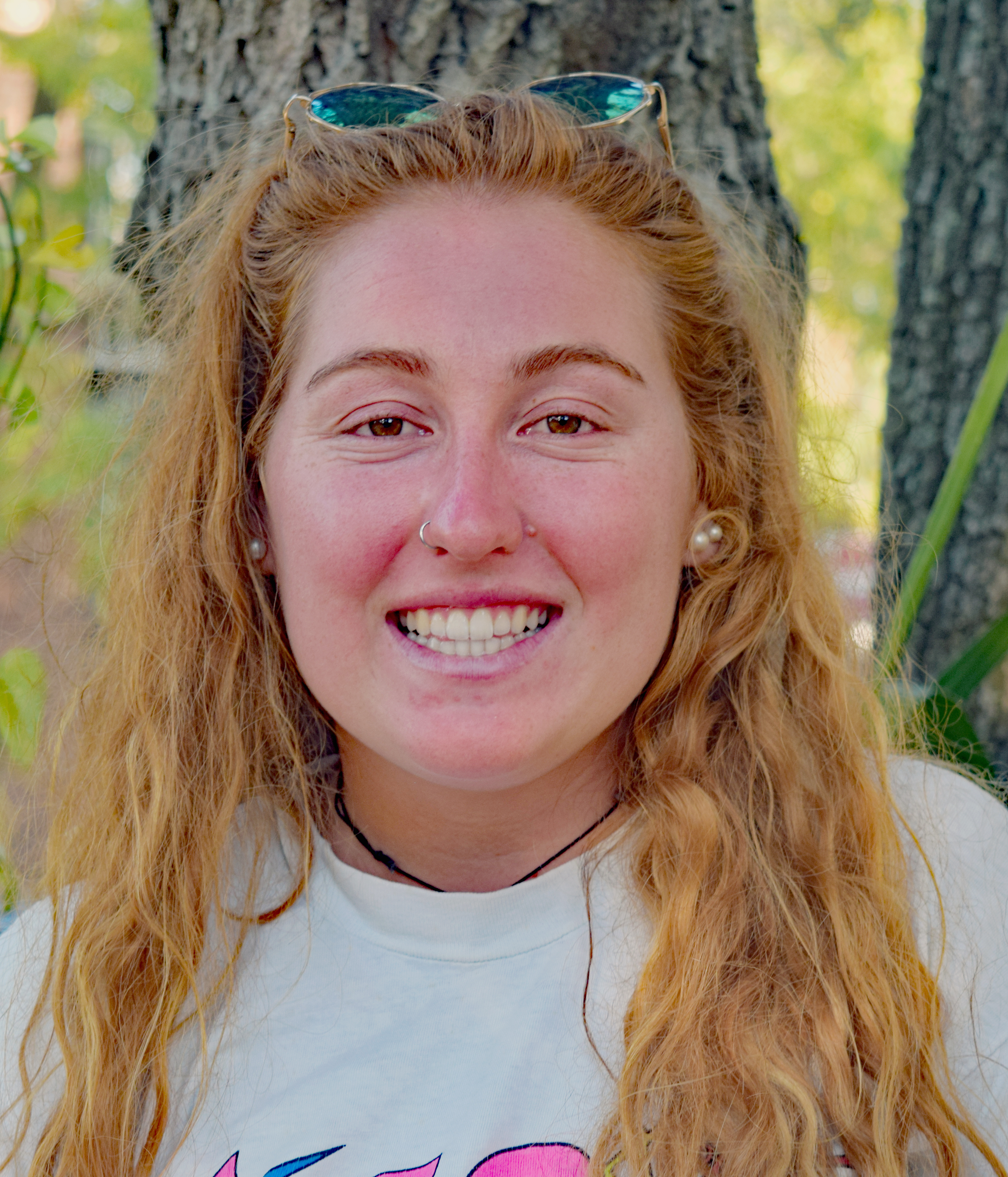 Coral Wilcox
Coral Wilcox came to the Patio Place family as a recommendation…. and we love recommendations such as these!!   A hard worker, friendly, team-worker and handles anything with a smile – Coral is invaluable to our Front of House staff.   Always willing to work early or late Coral never says no.    Coral attends the University of North Florida and is focusing on a Criminology degree.   Another young adult aspiring to be a productive part of society.  We are grateful to know Coral.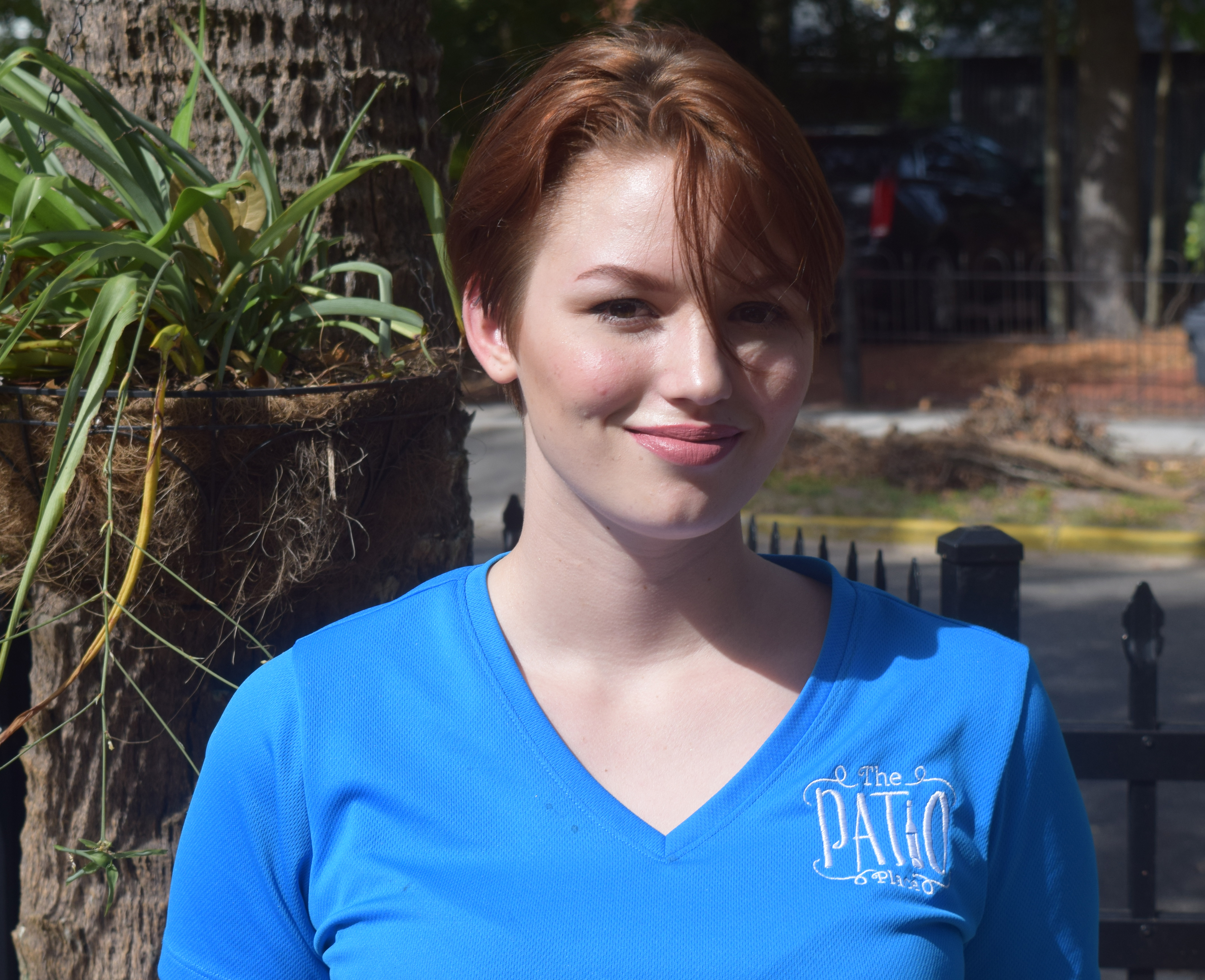 Carly Guillote
One of the "Originals"!  Carly has been with The Patio since day 1 and has grown leaps and bounds!   Carly works hard and is planning and saving for her future by working at The Patio Place and Logan's Steakhouse in River City.  Carly is a graduate of Nassau county schools – and achieved her ServSafe Managers certificate.   She knows how to engage the customers and explains everything we have on the menu in detail.  If you have a special need – Carly is the one to help.   Carly will be starting college in January and loves Cosmetology.  We are so proud to have Carly on our Team!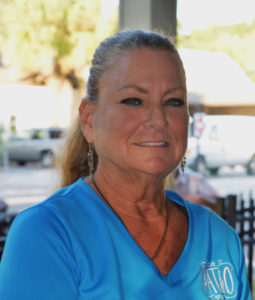 Amy Sullivan
Amy can be seen around town from sun-up to sun-down —Literally!     When she is not serving our customers, she can be found delivering the NewsLeader newspaper or serving at other restaurants in town.   Amy is always pleasant and willing to jump in and do anything at the restaurant.  We are pleased to have Amy on our team!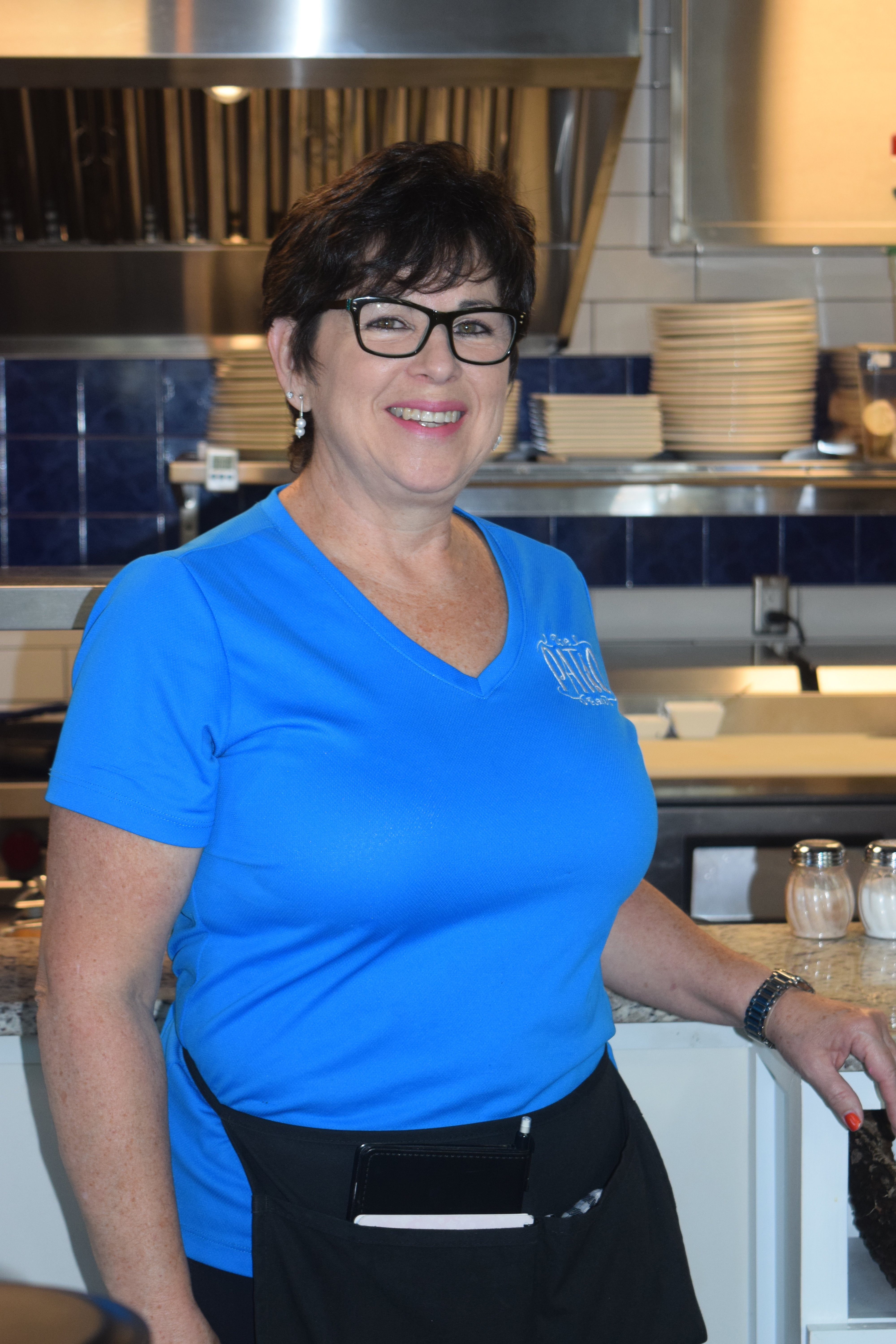 Diana Gonzalez
Diana has been with The Patio Place since we first opened and every day she arrives is a real treat.  Diana comes from Ecuador and has lived in the states for many, many years.    This is her first job in a restaurant and she loving it.    Diana moved from Miami, Florida to be with her daughter and grandkids.   You can frequently see them at The Patio having Nutella crepes and enjoying grandma serving them.